March/April
Topics This Term
All About Me
We will be learning all about;
Our bodies
Organs and their functions
Families
Different cultures
Senses
Hospitals
Babies
This topic is great for creating discussion at home and really encourages the children to get talking about themselves. For play we have a great hospital set up where we can be a doctor or nurse and learn about their roles. We also have a bath for washing babies in our baby clinic and sensory dough and sand. In class we have small world, lego, sensory bottles, mirrors for portraits, dough for making birthday cakes and a puppet theatre to name but a few.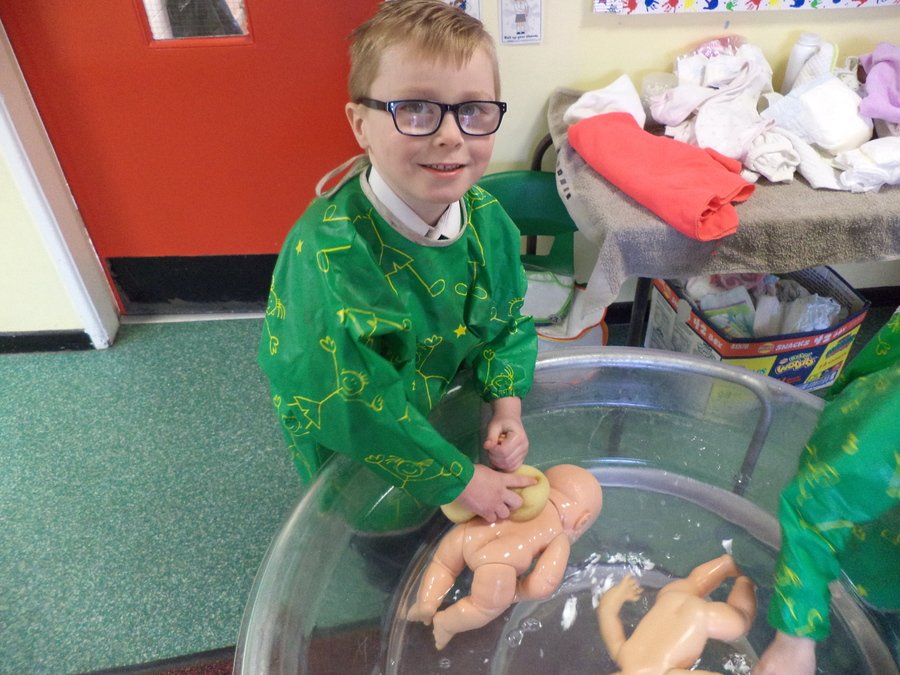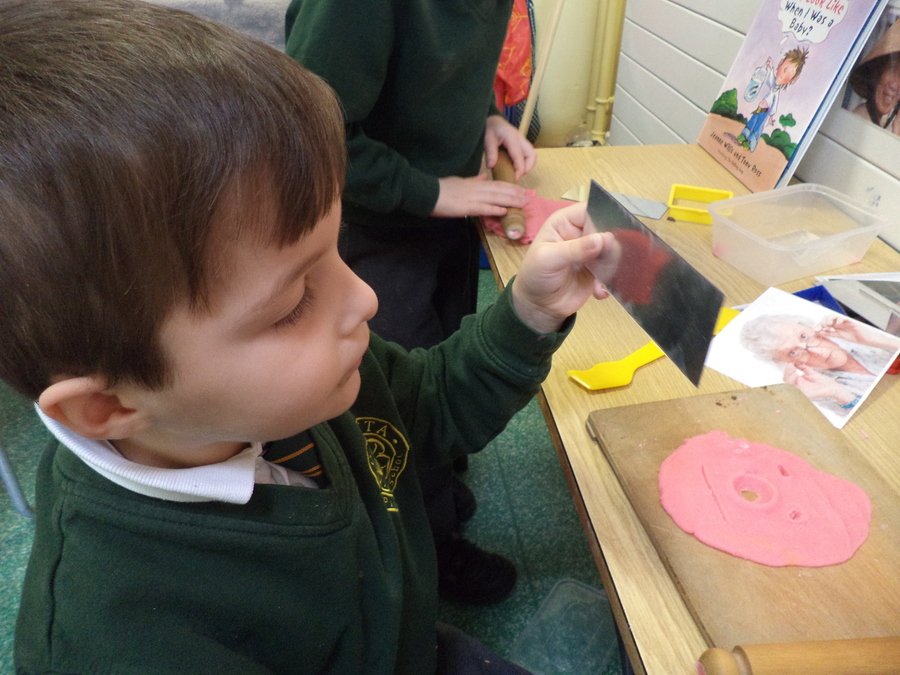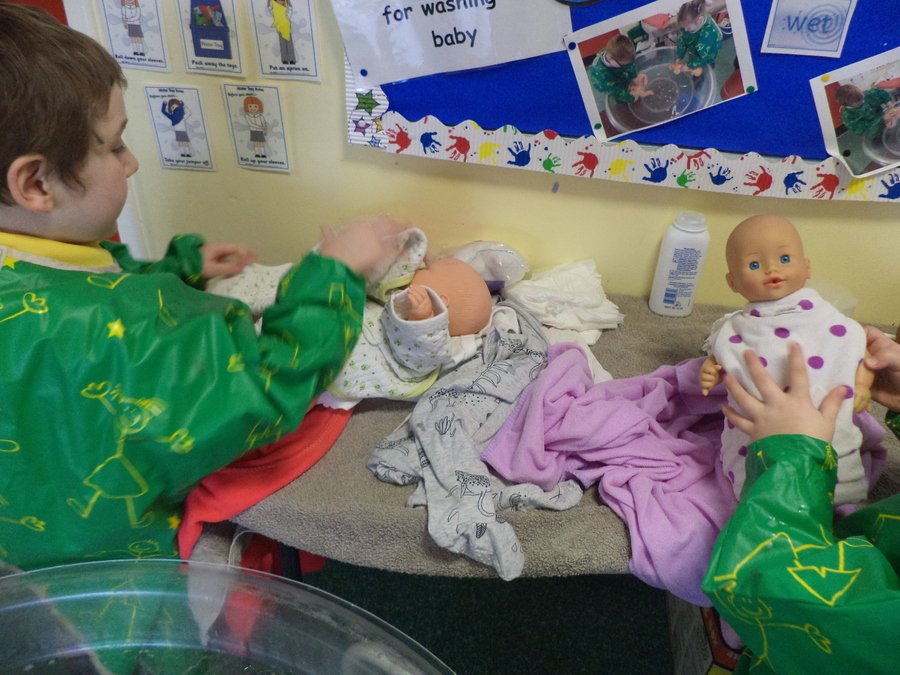 We have also had some real scientists into school who did lots of fun sensory activities with us and we got to taste, smell, touch, listen to and look at different foods and objects. It was great fun!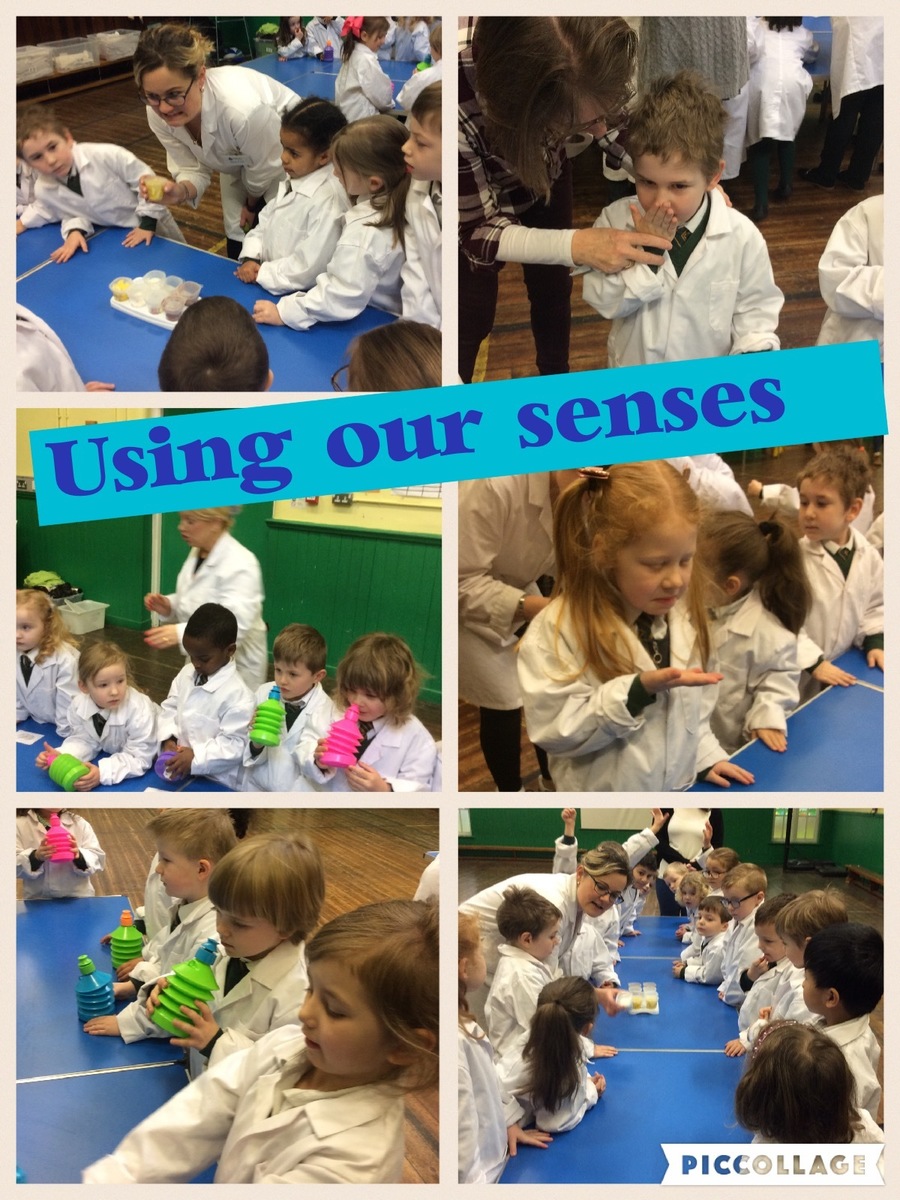 We love learning all about our families and how we are all different. We decided it is so much better to be different than to all be the same! We have also learnt how our bodies are all different and looked at what happens inside our bodies. It really is amazing the journey our food goes on!
This really is a fantastic topic for young children which creates so many opportunities for learning and exploring.
Have a look for yourself at what we have been doing…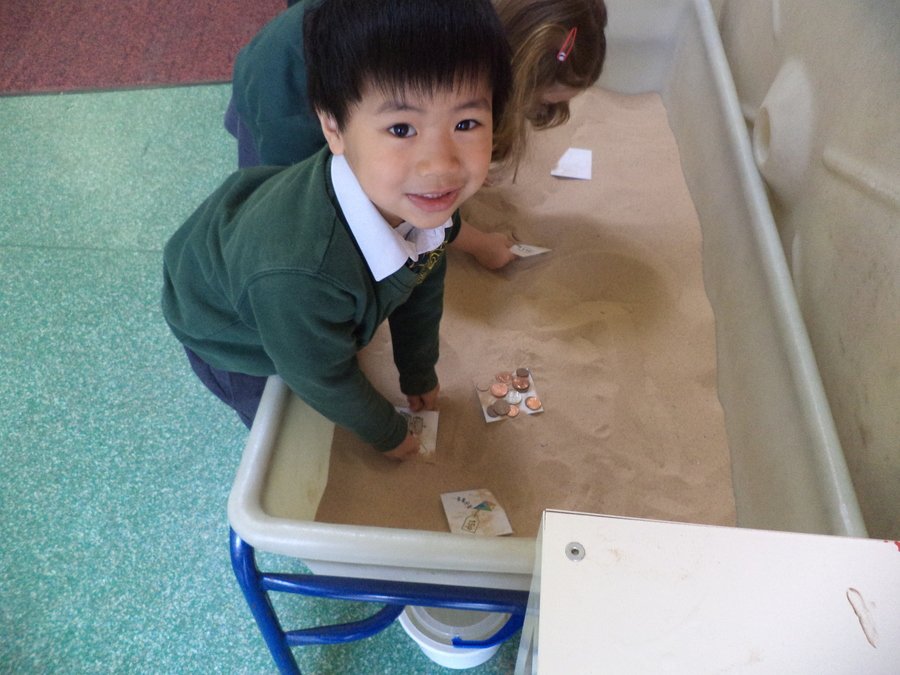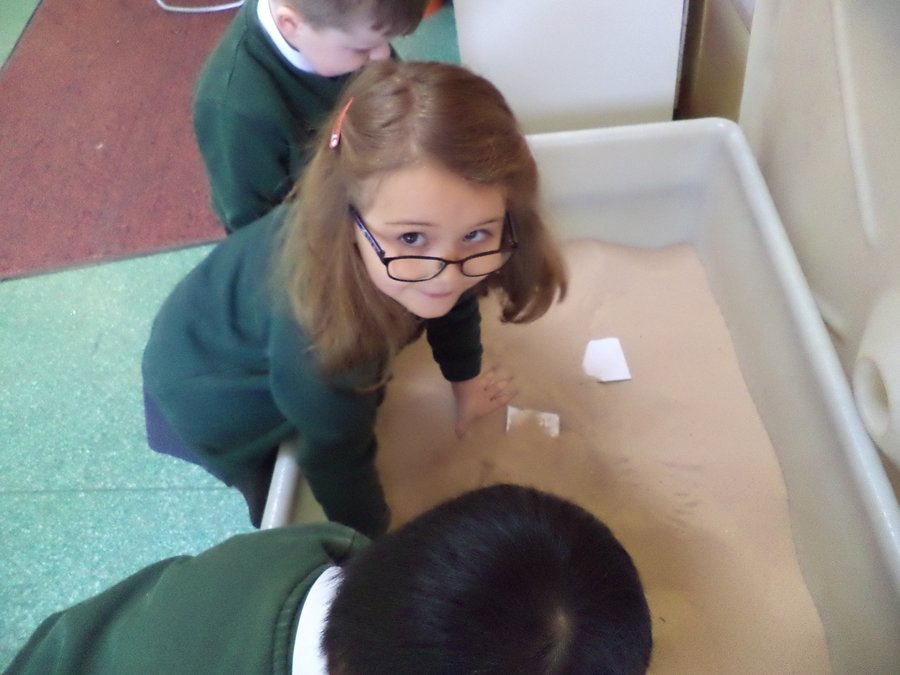 Letterland Day
We have had so much this term learning all our letters and sounds! We are now learning to put these sounds together to make words and some of us are even writing our own sentences now! WOW!
Over Easter we had an Easter Project to complete and we had to decide which Letterland character we liked the best and design a costume for this character. The results are amazing!! Have a look for yourself…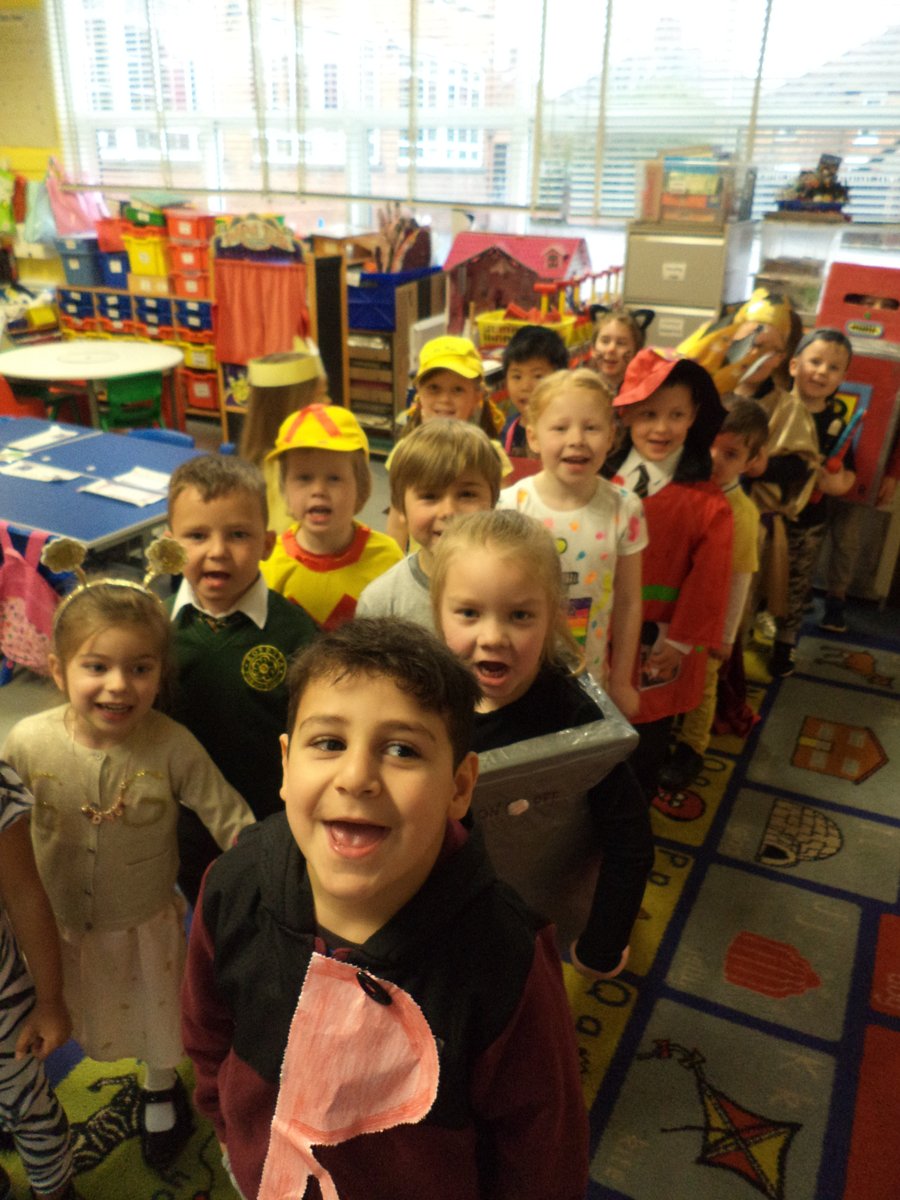 January/February
Topics This Term
The Building Site
We will be learning all about;
People who work on a building site
Machines
Tools
Different styles of buildings
Buildings around the world
Processes of building
This topic is great for creating discussion at home or family trips or outings. For our play area, we have set up an amazing real life building site with real tools, real materials and even a DIY store. We also have a fabulous architect's office where the children can create their own buildings and forward their plans onto the builders. In class we have real peg boards with hammers and nails, construction toys, blocks, lego, stickle bricks, kinex and many more to create some amazing buildings.
This really is a fantastic topic for young children which creates so many opportunities for learning.
Have a look below to see what we have been doing…
We have been learning how to wallpaper. We looked at the materials and were able to describe the properties. We even made instructions and followed them to paste and apply wallpaper…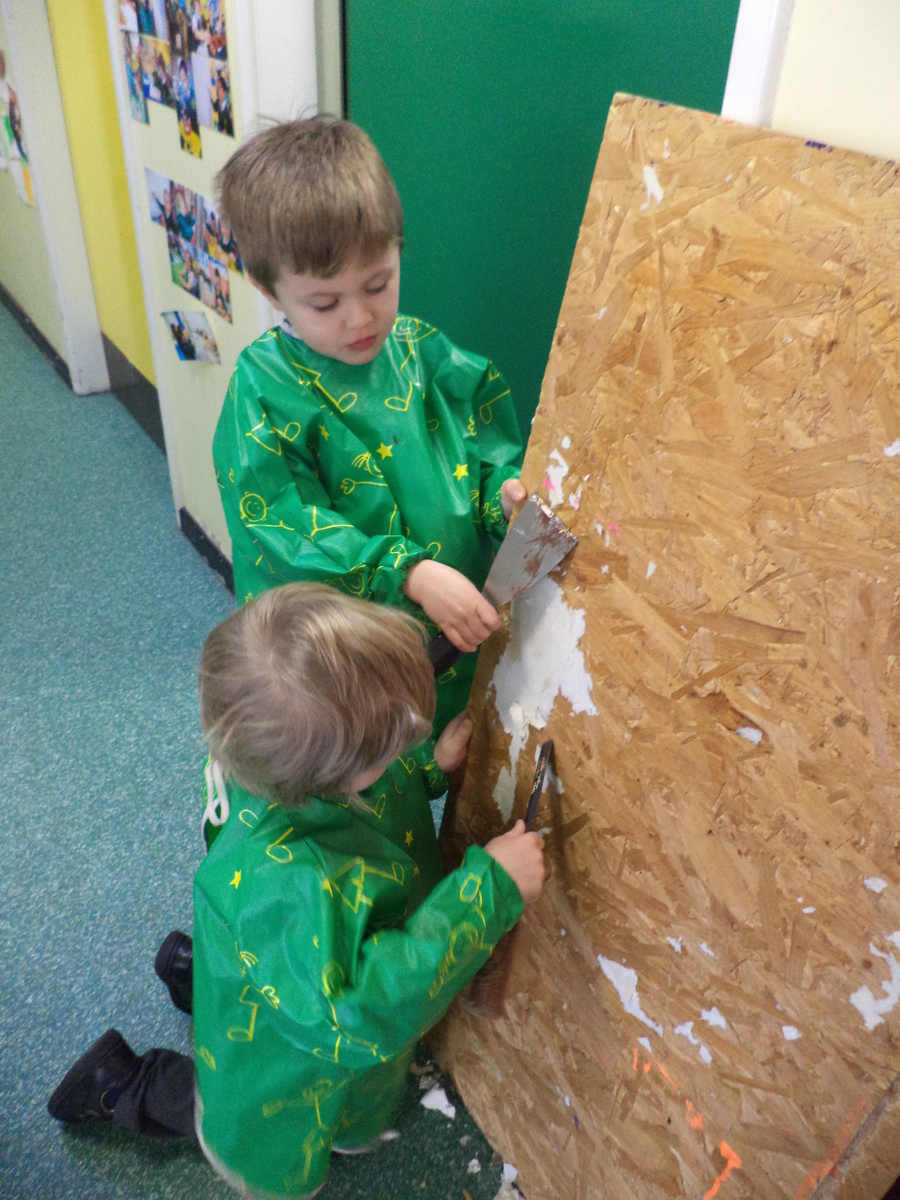 As part of our building site topic we have been learning the story of the three little pigs. We have acted out this story and even looked at the wolfs side! See how we made the houses using real materials and playdough…
Dig, dig, dig…. We have created our own building site in the sand, making tracks along the way…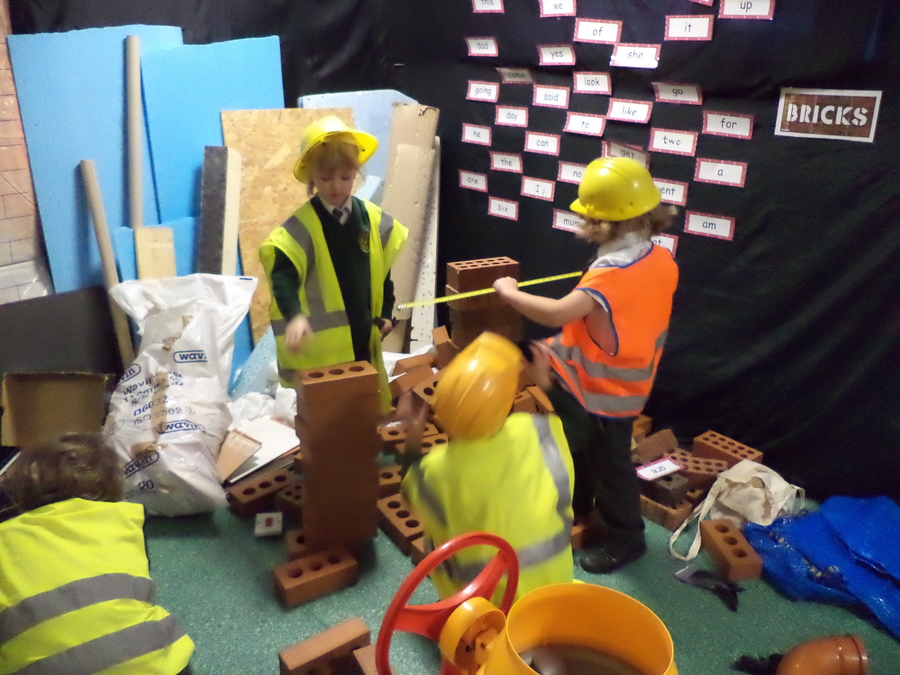 We have so much fun in our building site. We can become a plumber, electrician, plasterer, architect or brick layer. You must remember to stay safe on the building site and always wear your high visibility jacket and hard hat!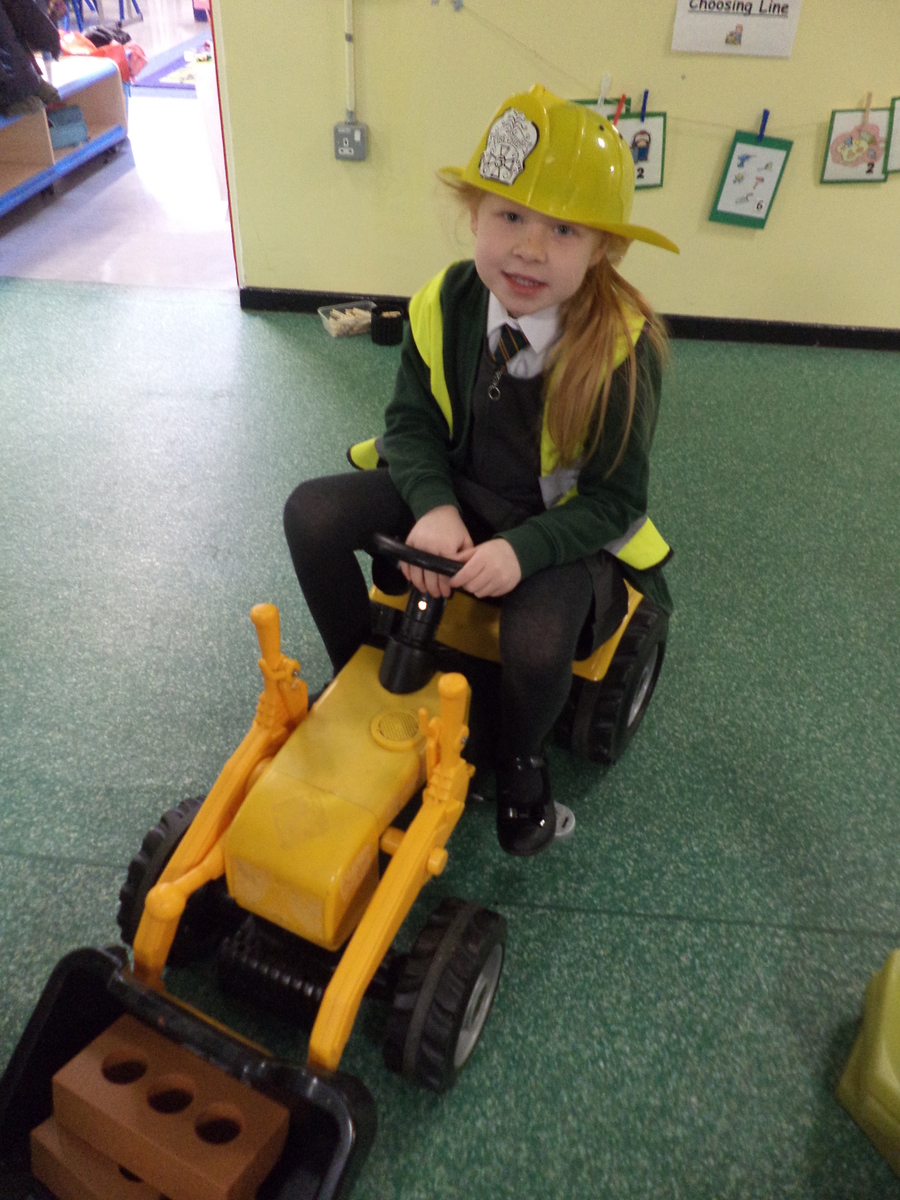 We love Science!! We predicted and tested which roof would be the most waterproof for the three little pigs.. Have a look at what we did…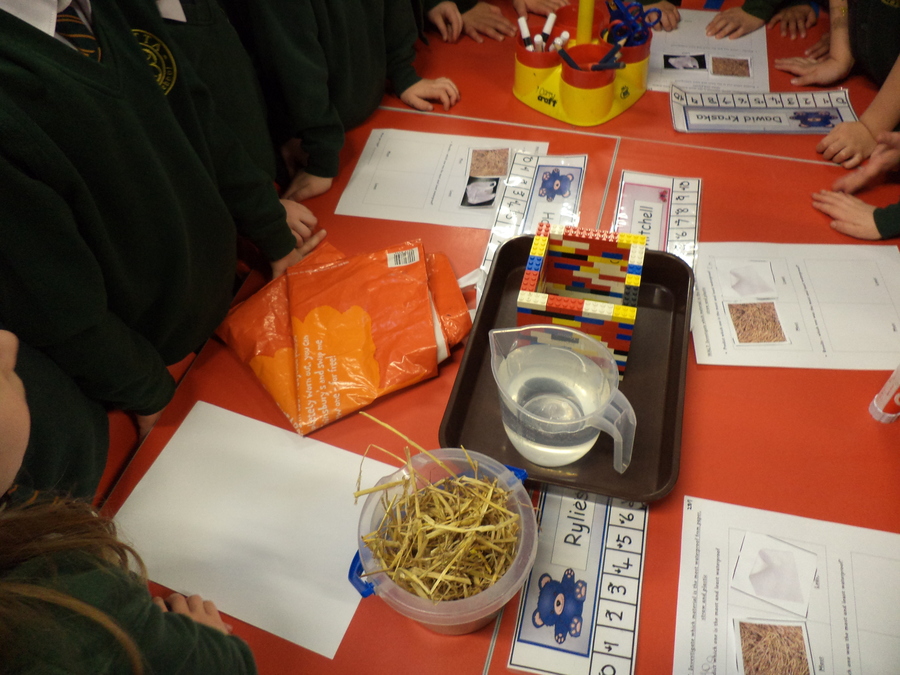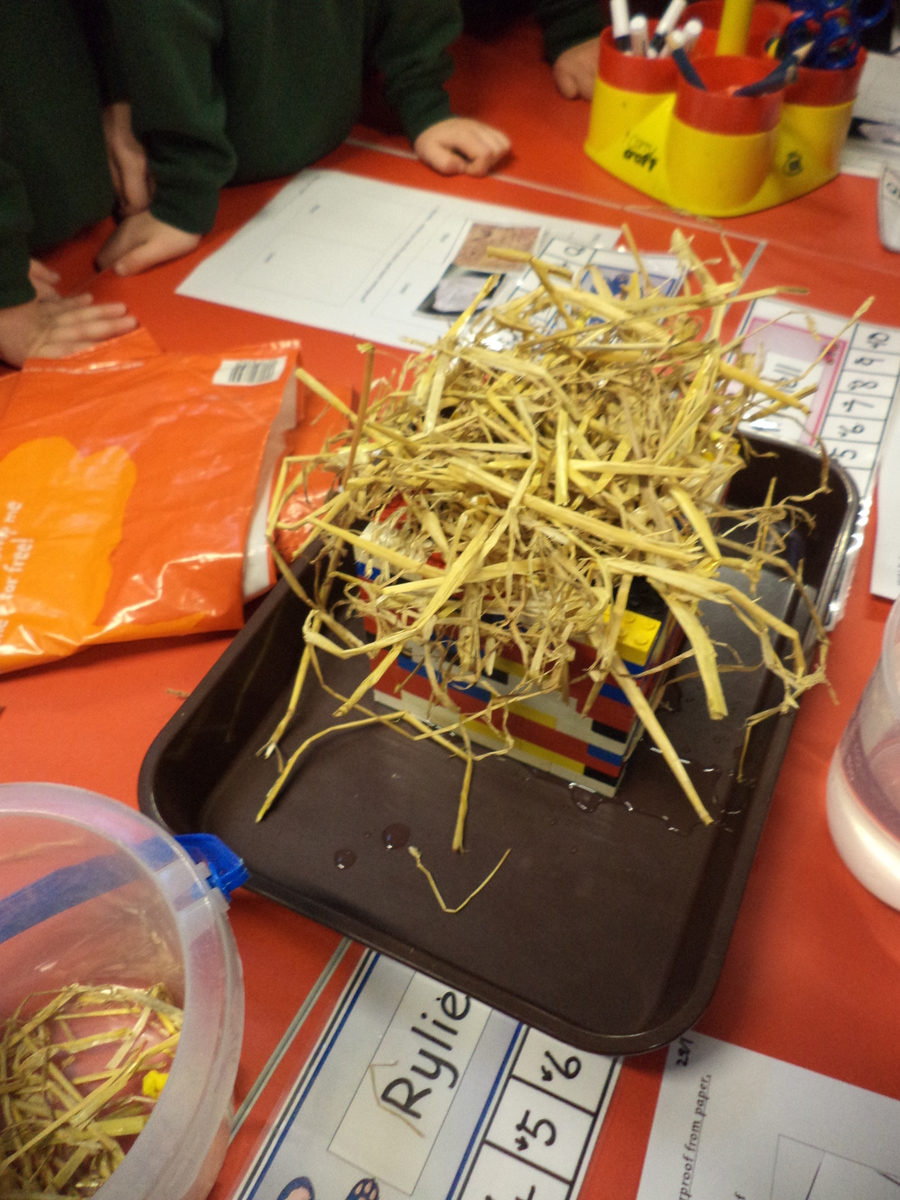 WELCOME TO P1 with Mrs Nicholson!!
Well done to all the Primary One children who have settled in so well. A big thank you to parents for all your support so far. It is much appreciated!
Already the children have made lots of new friends and have learnt many new skills. The children have been learning;
- to sort, match, count and recognise numbers within 10
- make sets and patterns
- pre writing and pre reading skills
- sequence a story and make titles
- all about the signs of Autumn and Harvest
- to make class rules and be a good friend
- all about People Who Help Us in our community – we have been using our imagination in becoming police officers, fire fighters, doctors, nurses and paramedics (to name but a few)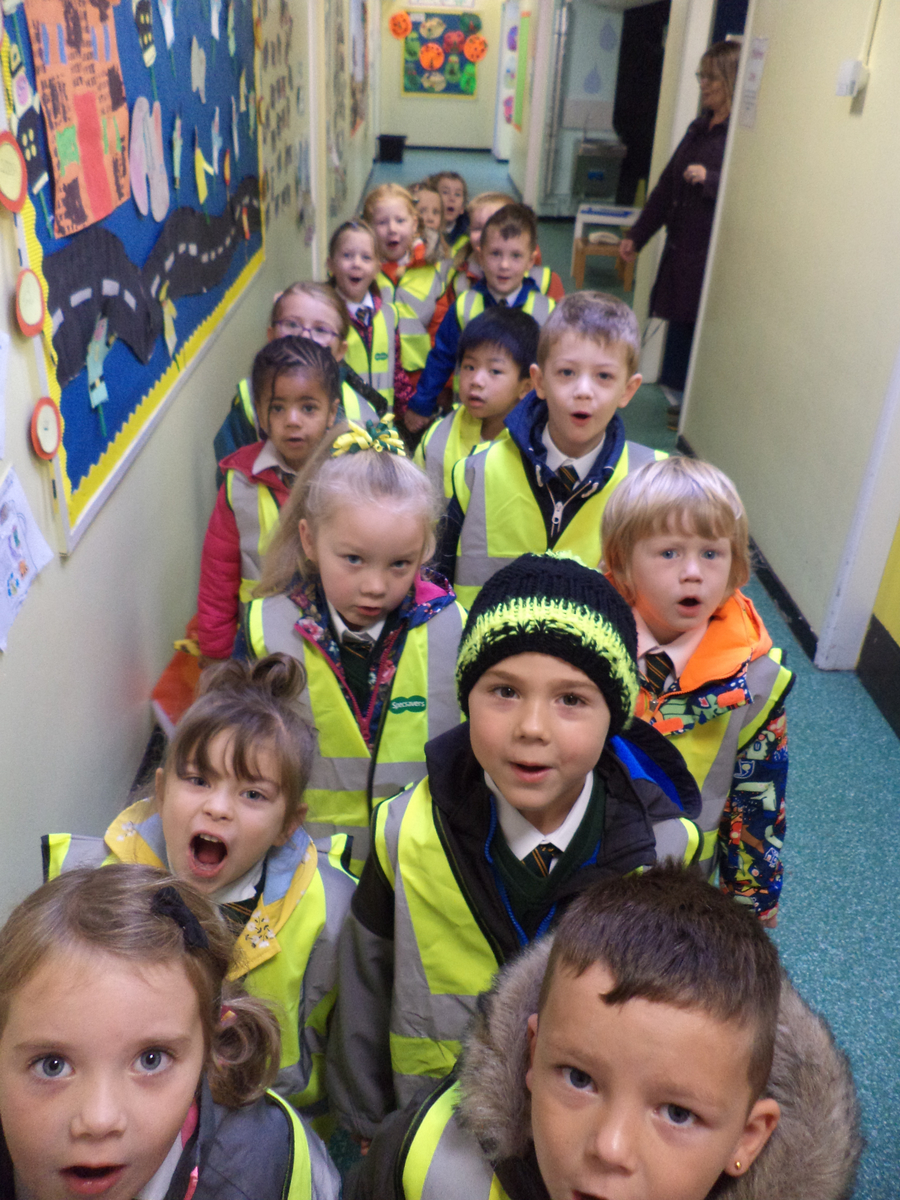 In Primary One it is important to encourage the children to be independent. As parents you can help by;
- encouraging your child to get dressed in the morning
- letting your child carry his/her own bag to school
- encouraging your child to put on his/her own shoes
saying good bye to your child at the entrance doors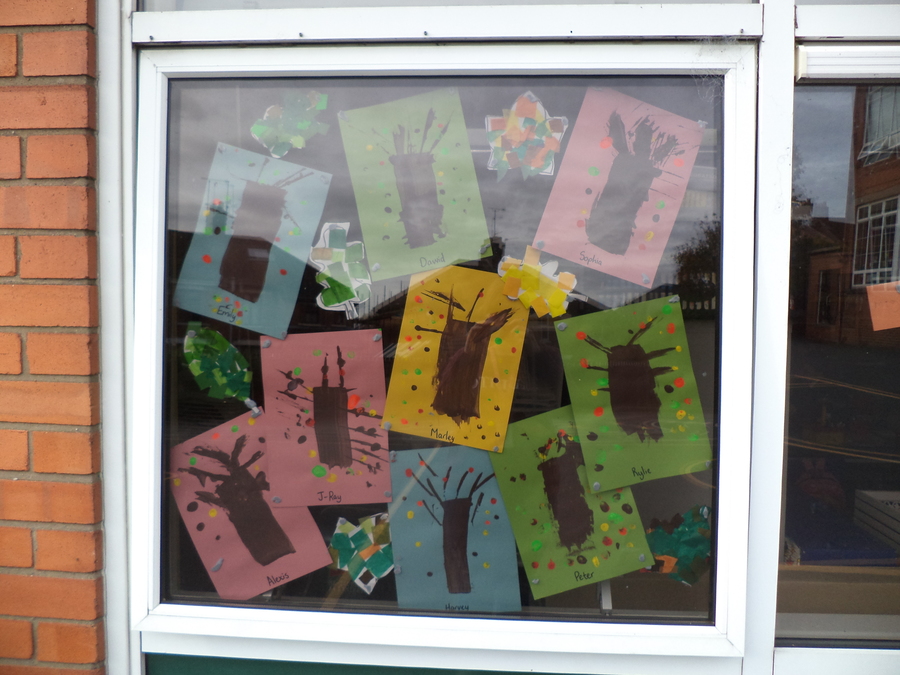 What to bring each day
School bag
Reading folder
1 healthy snack for break
Lunch in lunch box
Dinner money – collected on a Monday
Useful information Library Day - Every Friday (after Halloween)
Computer Time – Friday afternoon
Show and Tell - Fridays (please check P1 window after Halloween).
Buddies - Buddies come to play with the children at break and lunch times
Literacy
We have been very busy with Literacy in P1 so far this year. We have been learning to hold our pencils properly, sequence a story, make predictions about stories, handle a book and talk about our news. We have also been learning to recognise and write our names. This can be quite tricky for us so we have been using a variety of materials to help us. Have a look and see what we used…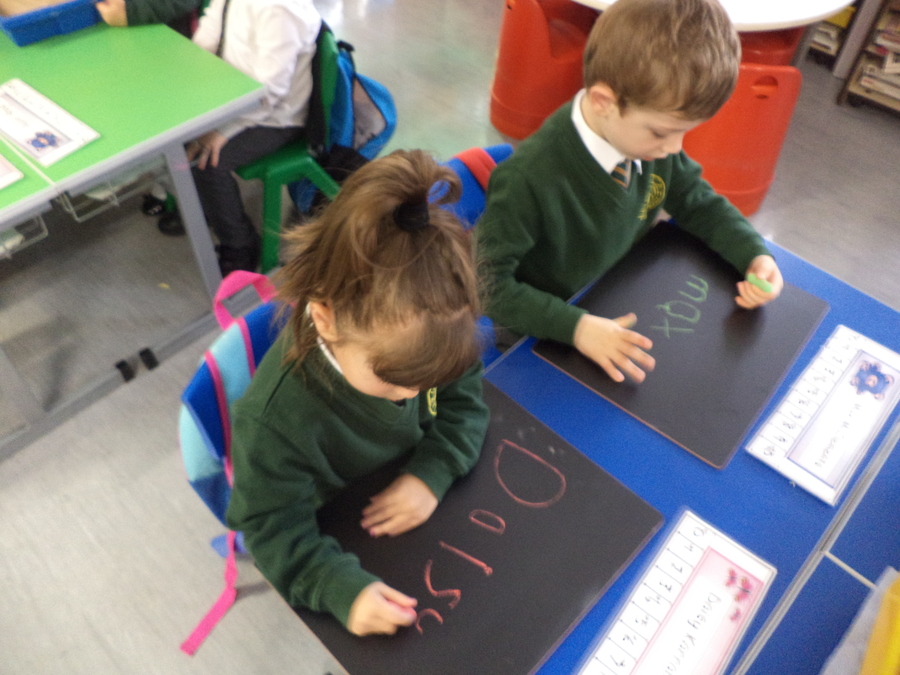 Numeracy
We are brilliant mathematicians in our class and we have been making sets, sorting for colours/size/shapes, matching, making patterns and using numbers. Have a look below to see us at work…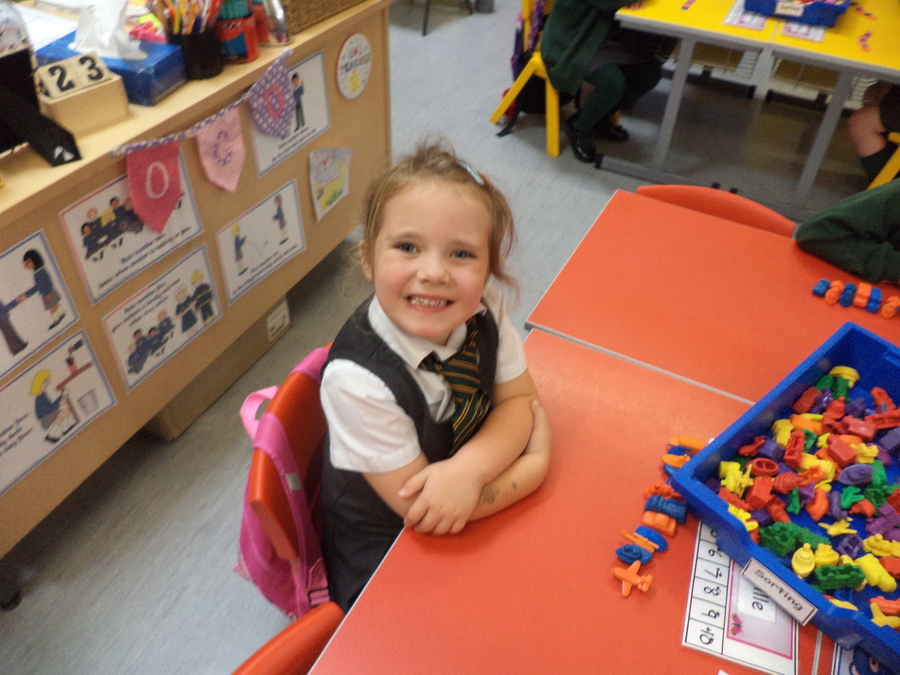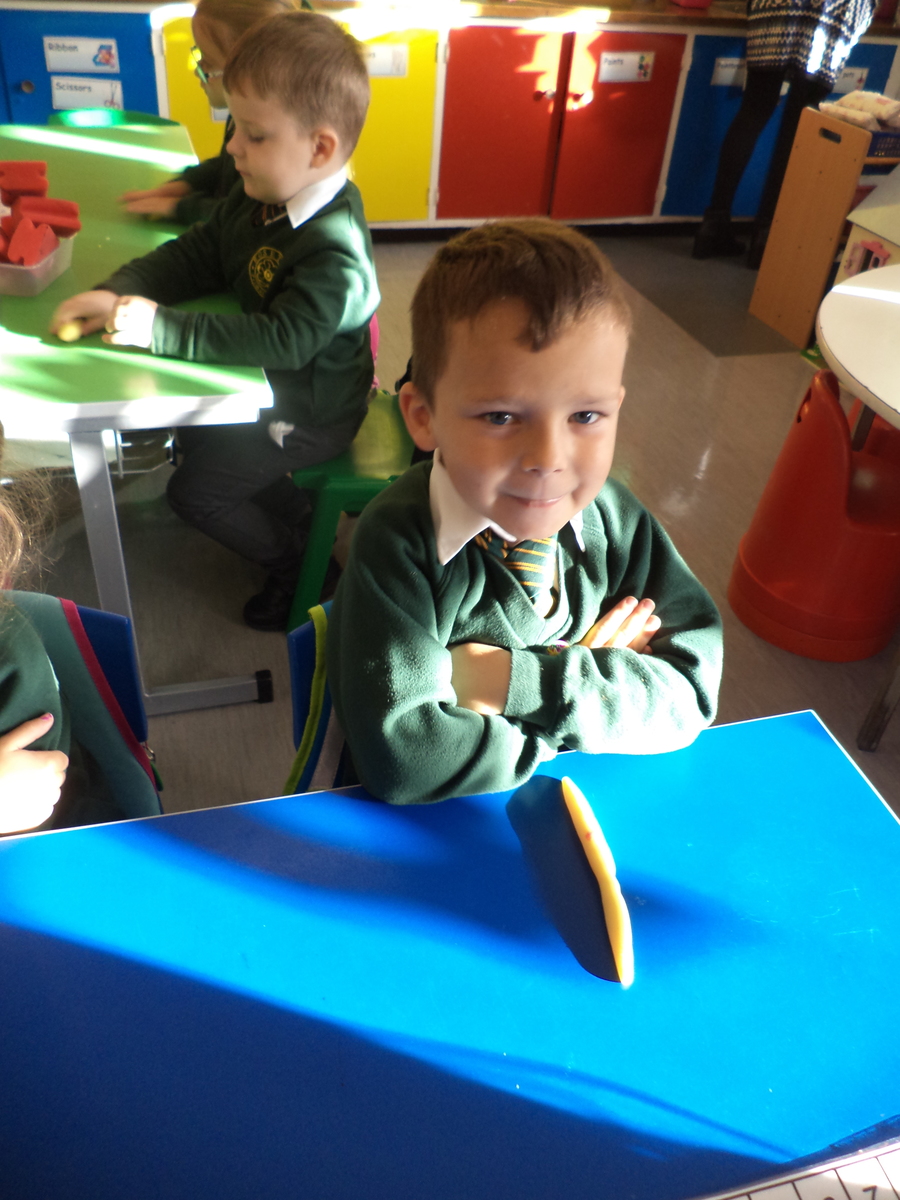 This is a slideshow below that displays a few of the things we have been doing.
P1 Autumn Walk to Cherryvale


As we have been learning all about Autumn and Harvest, we went on an Autumn walk to Cherryvale. We had so much fun! We collected leaves, twigs, berries, acorns and pine cones. We even had a bite to eat before getting a well-deserved break in the park. It was a long day but we had a brilliant time and managed some shared writing when we got back.
The next day we spent the whole day sorting, matching and doing art work with everything that we collected. We sorted for size and colours, matched leaves and pine cones, ordered leaves and twigs, made Autumn trees and Autumn rainbows. It was a great day! Have a look at what we did…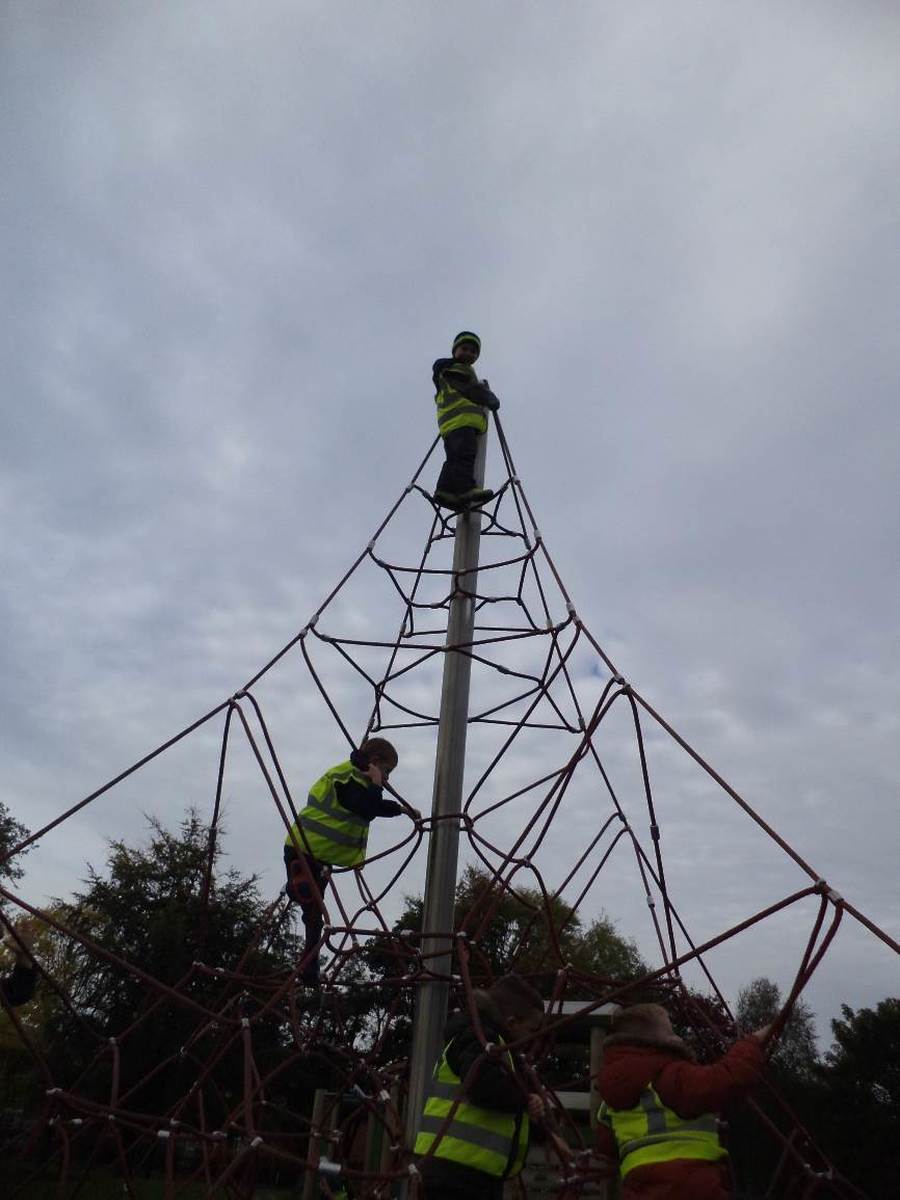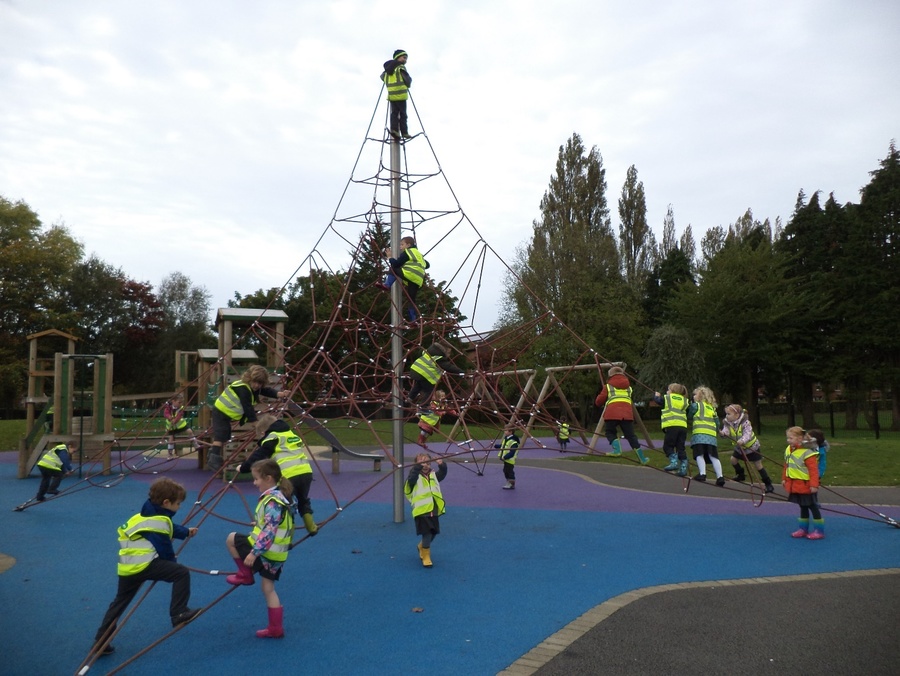 November/December
Topics this term
Light and Dark
We will be learning all about;
Day and night

Colours

Electricity and lights

Space
These topics may create opportunities for discussion at home and family trips or outings. All of which bring meaningful and real life experiences. For our play we set up an amazing cinema where the children get to watch movies on a projector, become cinema attendants, shop assistants and even customers who can eat some popcorn! We have light boxes for mixing colours, space mats for small world play and use torches and other lights in the sand. We even become real life scientists and experiment with colour explosions in our water tray! Why not come along to our Open Evening on 7th December and see how we learn through play for yourself. You will be amazed!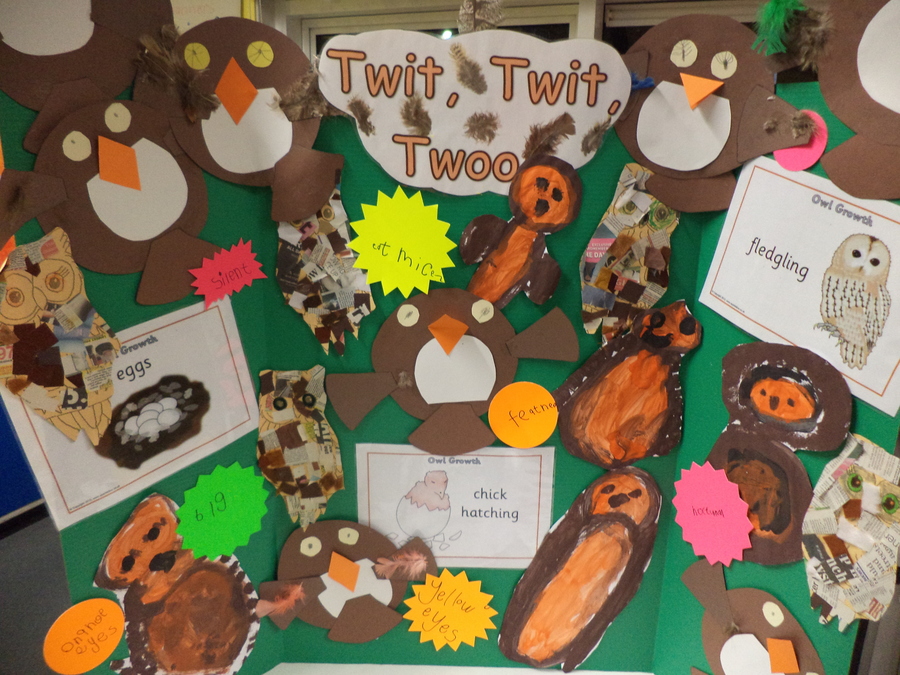 Twit, Twit, Twoo…
P1 have been learning all about nocturnal animals! As part of this we have been very busy making owls, writing about owls, reading about owls and even had a special visit from some friendly owls… Have a look at our photos to see for yourself!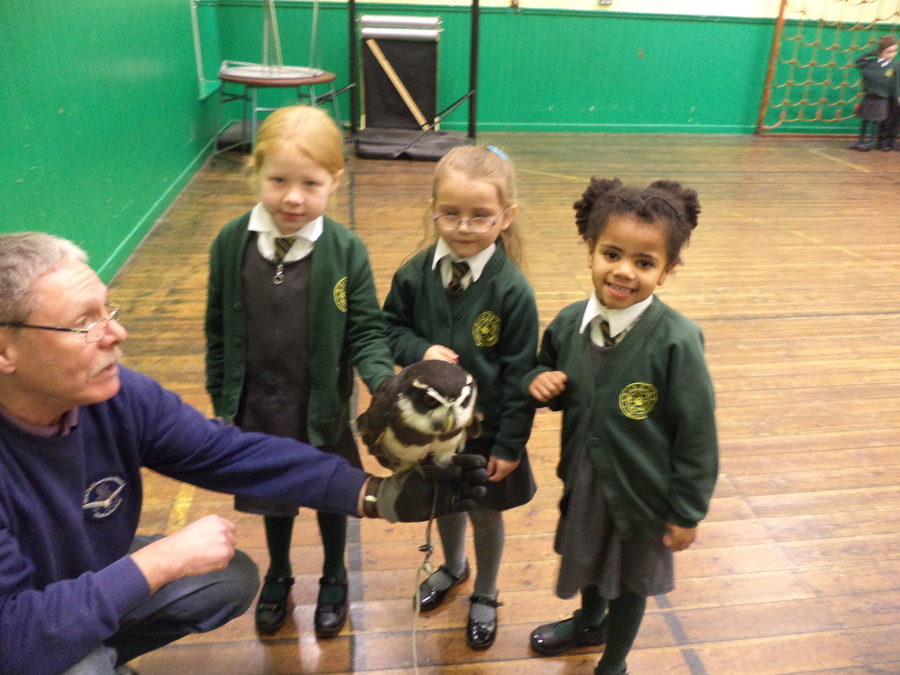 Did you know…
Not all owls are nocturnal
Owls fly silently
Owls have yellow, orange or black eyes
Owls can turn their heads right around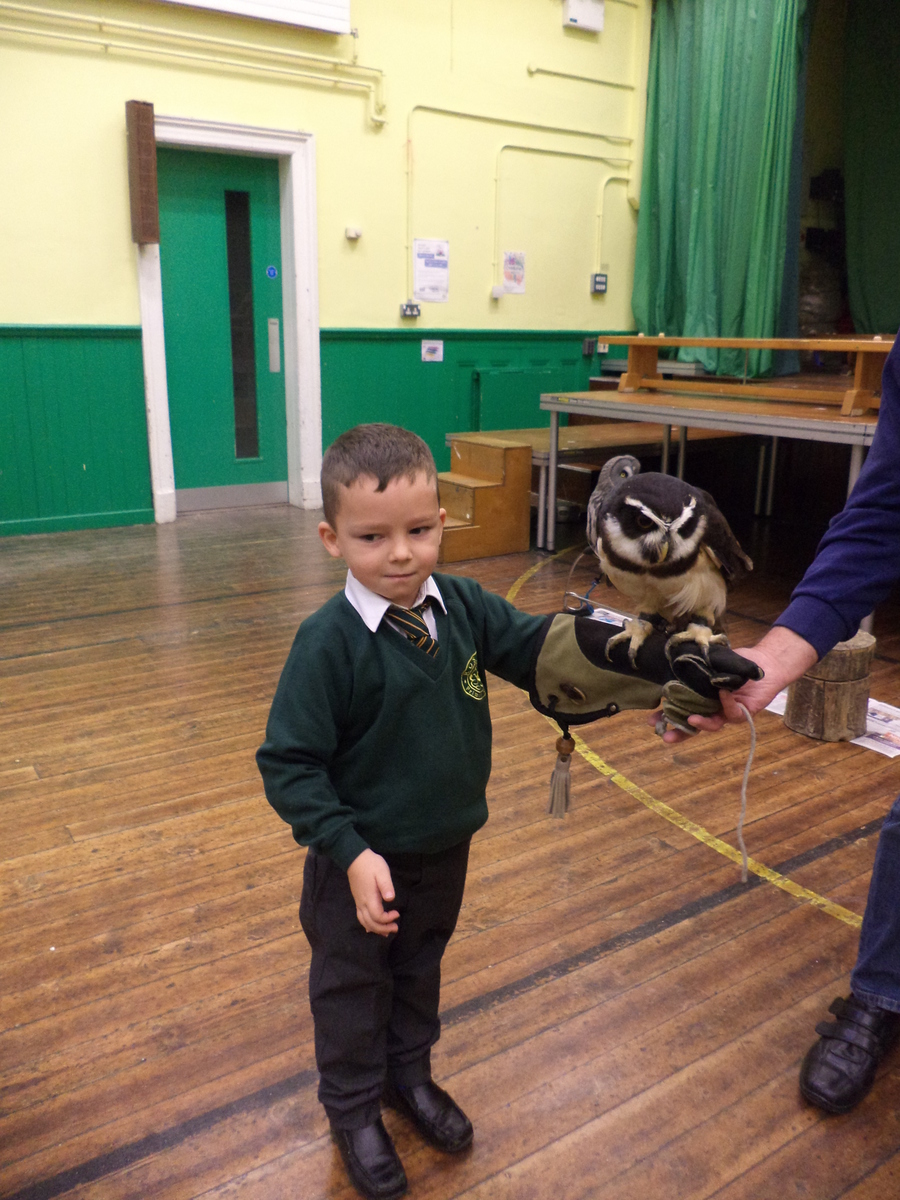 Look at these amazing birds!